PA and Secretary Development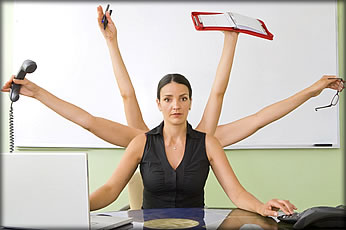 Are your PA's and Secretaries trained and competent ?
Have they made the transition in mindset to embracing modern duties and functions ?
Do they create lasting professional impressions ?
The PA and Secretarial Development Programme is designed with the aim to develop and equip practicing PA's and Secretaries with competencies (knowledge, skills, attitudes and behaviors) that are becoming more and more requisite in their complex and challenging environment. The programme approaches personal and professional development through introspective, top end facilitation to practical, hands-on learning and self assessments.
By the end of the programme, learners would be able to:
Evaluate

their strengths and weakness, laying a foundation for personal insight, development, goals, commitments and human relation strategies.

Learn

positive attitudes that influence the working environment and take initiative.

Apply

practices to improve their self-image.

Apply

problem solving techniques in various working situations.

Manage

stress and be proactive.

Develop

better communication skills.
PA & Secretary Development has a total of 4 Modules, which cover the following topics:
Module One: Performance indicators for the Modern Secretary
Module Two: Attitudes and changing mindsets
Module Three: Problem Solving Principles
Module Four: Self Management
Teaching Aids :
Course Manuals, MS PowerPoint presentation, Audio Visual clips.
Matching Assessment & Pre-work :
Profiles Performance Indicator™ – The Profiles Performance Indicator™ provides recommendations for improving employee performance, including how to respond to job-related stress, frustration and conflict; how to stimulate employee motivation and whether the employee is internally motivated or will need external stimulation.
Interactive :
Facilitation, Group Interaction, Breakaway group sessions, Practical learning Activities and Games.
Administrators, Frontline staff, Finance Departments, Call Centre personnel, Marketing and Sales staff, Managers, Receptionists and all levels of an organisation.
Training can be conducted in-house, or at a venue of your choice.