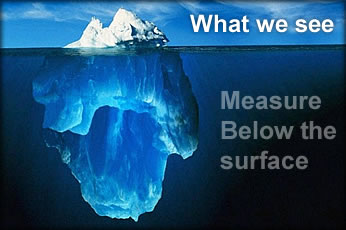 Do you have the right people in the right jobs?
Do you assess using a job match profile before selecting an employee? What if you could confirm, reveal and verify a job candidate's potential?
What are the development areas of competency for existing staff?
The Profile XT™ Measures :
The Profile XT™ is used to measure the Total Person, this being:Thinking and Reasoning 
(can the person do the job?)
Learning Index
Verbal Skill
Verbal Reasoning
Numerical Ability
Numerical Reasoning
Behavioral Traits 
(how will they behave once in the job?)
Energy Level
Assertiveness
Sociability
Manageability
Attitude
Decisiveness
Accommodating
Independance
Objective Judgement
Occupational Interests 
(do they want to do the job?)
Mathematical
Enterprising
People Service
Finance/Admin
Creative
Technical
Purpose of the Profile XT™ :
In the business world, where it is so easy to duplicate products and undercut prices, the key strategic advantage for most companies is the performance of their employees. Employees who are well matched to their position have higher attendance records, less turnover, higher job satisfaction, and superior job performance. Both the employee and the employer share the benefits of enhanced person-job fit. 
Profile XT™ is designed to: facilitate, achieving the best possible job fit; to develop effective work teams; design optimal training programs based on the trainees' style of learning; help supervisors determine which approach will work best when working with a particular employee and help develop succession plans.
After the candidate has completed the Profile XT™, you will receive the following reports that can be used in your decision making process:
Individual Report
Placement Report
Succession Planning Report
Candidate Matching Report
Coaching Report
Job Analysis Report
Summary Report
Graph Report
Sales Placement Report
Sales Management Report
The Profile XT™ can be used for the following functions within an organisation:
Job Placement
Promotion Fit
Coaching and Self Improvement
Succession Planning
Job Description Development
When you use the Profile XT™, you will be using Job Match Patterns to benchmark a person against a particular Job. The Profile XT™ can be customised to develop Job Match Patterns by:
Company
Position
Manager
Geography
Benefits of the Profile XT™ :
Minimise employee challenges in terms of:
Staff non-performance
Reaching targets and objectives
Job fit
Identify development and coaching gaps
Identify staff potential
Confirm best staff for successor planning
Promotion decisions