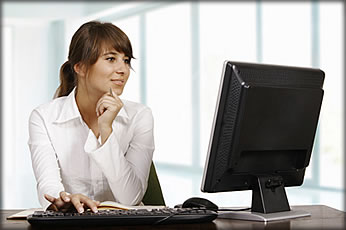 Want to develop your management skills via e-learning?
Choose from 21 short courses online based on the KSS principle.
Purpose of the Profiles Skill Builder™ Series:
The
CheckPoint SkillBuilder™
is a distinctive tool to build upon leadership strengths and to close critical skill gaps. Most 360-degree feedback systems simply report a participant's strengths, weaknesses and may provide some suggestions for improvement.
SkillBuilder™ applies Profiles' unique K-S-S system to help managers:
KEEP DOING

the things they do well.

STOP DOING

those things that interfere with their effectiveness.

START DOING

things that will improve their performance.
Profiles Skill Builder™ Modules:
SkillBuilder™ addresses 8 Management Competencies and 18 Skill Sets. There are 18 modules available to take online
1. Listening To Others
2. Processing Information
3. Communicating Effectively
4. Instilling Trust
5. Building Personal Relationships
6. Delegating Responsibility
7. Adjusting To Circumstances
8. Thinking Creatively
9. Providing Direction
10. Facilitating Team Success
11. Working Efficiently
12. Working Competently
13. Taking Action
14. Achieving Results
15. Cultivating Individual Talents
16. Motivating Successfully
17. Displaying Commitment
18. Seeking Improvement

Benefits from using the Profiles Skill Builder™?
Personal Action Plan
Participants complete on-the-job actitvities and coaching sessions to generate a custom plan of action for professional development, including skill building tips, skill building activities, and suggested supplemental activities. The plan provides a framework to drive accountability for change and enables a commitment for continuous professional improvement.
Customised Coaching Guide
provides a detailed framework that helps the coach guide the manager through activities and exercises to ensure continuous professional improvement.