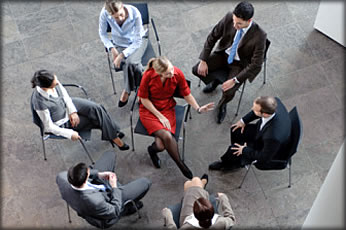 What do others really think of the leaders and managers in the workplace?
How can this information help in management development and strategic intention?
The Checkpoint 360™ Measures :
The Profiles Checkpoint 360™ measures the following:
(8 Management and Leadership Competencies, 18 Supporting Skill Sets) 
Communication:
1. Listens to others
2. Processes information
3. Communicates effectively
Leadership:
4 Instills trust
5. Provides direction
6. Delegates responsibility
Adaptability:
7. Adjusts to circumstances
8. Thinks creatively
Relationships:
9. Builds personal relationships
10. Facilitates team success
Task Management :
11. Works efficiently
12. Works competently
Production:
13. Takes action
14. Achieves results
Development of Others:
15. Cultivates individual talents
16. Motivates successfully
Personal Development:
17. Displays commitment
18. Seeks improvement
Purpose of the Checkpoint 360™ :
The Profiles Checkpoint 360™ is a multi-rater feedback process that provides managers and leaders with an opportunity to receive an evaluation of their job performance from the people around them – their boss, their peers, and the people whose work they supervise. 
Find

out how all others really perceive your Leadership and Management practices.

Identify

gaps for further development and coaching.

Determine

whether your Management team possess the right skills to take your organisation from point A to point B.

Engage

in possible e-learning via Skill Builder.

Use

Checkpoint 360 as a possible aid for performance appraisal with the view to doing a comparative report 6 months to 1 year later.
Checkpoint 360™ Reports :
Once the candidate and all involved have completed the Profiles Checkpoint 360™, the candidate will receive the following reports: 
The four-color multi-rater feedback system report describes a participant's skills for 8 universal management and leadership competencies with 18 supporting Skill Sets.
Includes a personal development section for the 18 Skill Sets that guides a manager through ways to improve their job performance.
Online SkillBuilder™ with Coaching Guides are available for building on strengths and closing skill gaps.
Comparison reports provide a means of measuring a participant's progress in developing leadership qualities and management skills.
An Organizational Management Analysis™ report provides a summary of all individual Checkpoint reports within the organization or division of the organization.
Checkpoint 360™ Used for :
Pre-work for Management Development intervention
Performance Appraisal/ Review tool
To solve management problems
Measure comparative improvement and progress for top managers
Benefits of Checkpoint 360™ :
The Profiles Checkpoint 360™ solves these challenges: 
Ineffective Management Practices
Poor Communication
Inadequate Leadership
Distrust of Management
Inability To Delegate
Low Motivation
Lack Of Commitment
Stagnation of Ideas and Status Quo
Low Performance Standards
Workplace Conflicts
Identifying areas for management development